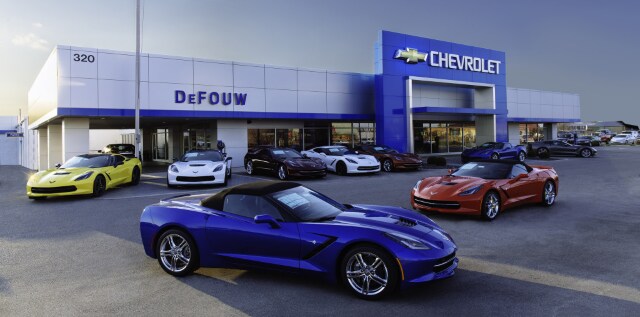 After 55 years as your BMW and Chevy car dealership in Lafayette, everyone that's part of the Defouw family has a lot to be grateful for, which is why we place such a high priority on DeFouw Community Involvement. We're not just your Lafayette source for new BMW and Chevy vehicles - we work just as hard to give back to our patrons and community. Learn more about all of the ways we value our West Lafayette area community.
Our Partnerships With Non-Profit Organizations
In the Frankfort area and beyond, we partner with a range of non-profit and charitable organizations that give back to everyone in the community. Here are just a few of our affiliations:
Boys and Girls Club of Montgomery County: Boys and Girls Clubs are a 150-year American institution and the Montgomery chapter was founded in 1955. Our local club helps with community and after school sports programs.

Red Cross: This organization relies on thousands of volunteers and donations to provide compassionate and necessary health services to people around the world. They're renowned for their disaster relief, blood donation work, and support of military families.

Make A Wish - Golf Outing: The Make a Wish foundation grants wishes for kids diagnosed with life-threatening medical conditions. Every year, the Golf Outing is held to raise funds for making children's wishes come true.

Purdue University: This elite university is just next-door, and education is high on our list of favorite causes. We gladly donate to support our local Boiler Makers' education and career paths. And we stock an extensive inventory of used vehicles that are some of the best cars for college students.

American Caner Society: From funding research to aiding patients, the American Cancer society plays an integral role in the ongoing battle against many types of cancer.

Ivy Tech Community College: Many students, parents, and veterans attend Ivy Tech to reenergize their educations and careers. We donate to provide financial support, class materials, and facilities for these scholars.

Relay for Life: In a 6-24 hour walking relay, teams take turns walking the track to raise awareness and funds for cancer patients. Participants enjoy games and entertainment, while ceremonies honor survivors and those who passed.

March of Dimes: This organization spearheads the prevention of birth defects, infant mortality, and premature birth. They educate medical professionals, promote newborn screenings, and are working towards finding the causes of premature birth.
Our Most Successful Charitable Campaigns
What makes us different from other car dealerships in Lafayette and West Lafayette is our zeal for organizing impactful charity campaigns. We're proud of every campaign we've organized over the years.
2016 United Way Campaign: In 2016, we're proud to say we've raised $83,844 for the United Way organization. Everyone chipped in from the DeFouw team to raise funds for this organization that helps local children reach their educational and career goals.

American Cancer Society for Breast Cancer Awareness: For this organization, we got creative with our approach. We used a combination of employee raffles, selling shirts, and bake sales to raise $3,379.

2014 & 2012 United Way Best Overall Campaign Award: Every year, United Way connects with their top campaign supporters. In 2014 and 2012, we were honored to receive a Best Overall Campaign Award in our category.
Why Community is Important to the DeFouw Family
Why do we do so much to give back to Lafayette and the surrounding area? We value our customers and our community. We wouldn't be successful without you, so we want to show you and the community the same appreciation. With that in mind, we try to select organizations with goals that align with ours:
We are dedicated to improving quality of life. Everyone deserves a helping hand when they face tough situations. We support organizations that provide the services needed for children and local citizens to achieve their educational, career, and daily living goals.

We want to encourage healthy lifestyles. From nutrition to getting youngsters active, we want our community to live healthy now and in the future. We look for non-profits that actively work towards providing nutritional information and services to our Lafayette communities.

We want to help children achieve their goals of higher education. Every child can succeed, and everyone should have the tools to complete their education and get a great job. That's why we love charities and non-profits that look out for our children's futures.
Become Part of Our DeFouw Family
Are you ready to work with a car dealership focused on serving the Lafayette community? Come down to DeFouw Automotive, located at 320 Sagamore Parkway South, and we'll be happy to help you find a car that truly fits your needs and your budget. If you want to make an appointment or ask a few questions, give us a call at 765-449-2800 or fill out our contact form.
SALES HOURS
Monday

8:30 AM - 7:00 PM

Tuesday

8:30 AM - 6:00 PM

Wednesday

8:30 AM - 7:00 PM

Thursday

8:30 AM - 7:00 PM

Friday

8:30 AM - 6:00 PM

Saturday

8:30 AM - 6:00 PM

Sunday

Closed